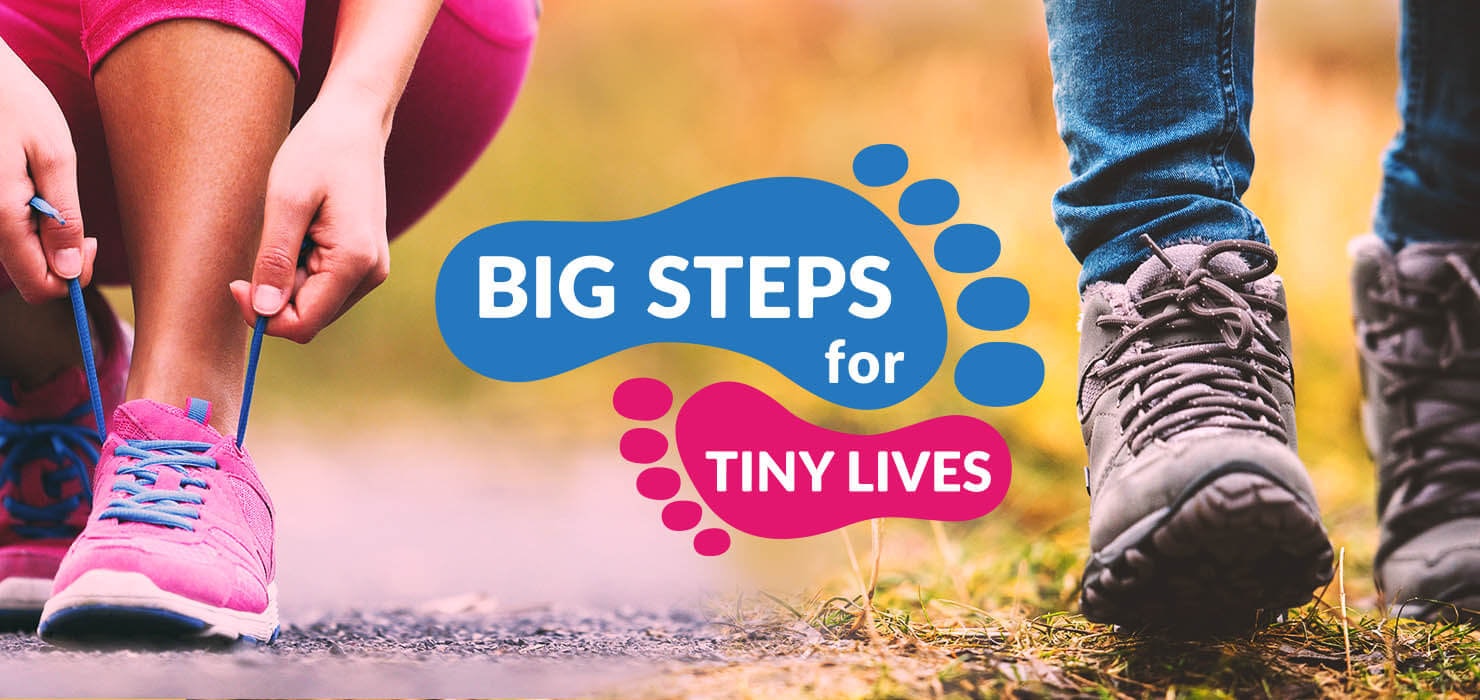 FREQUENTLY ASKED QUESTIONS
What is Big Steps for Tiny Lives?
Big Steps for Tiny Lives is a virtual event where we challenge you to cover your chosen distance, be it 20, 40 or 60-miles, on foot (running or walking). You can also choose your own distance to suit your ability.
Big Steps for Tiny Lives starts on Thursday 1st October 2020 and runs until December 2021. As it's a virtual event you can do it wherever you like! Simply log all your distances online.
Registration is free and easy to do simply click register now and follow the instructions to register and create your fundraising page.
Fitness levels depend on the distance chosen. You know your own ability better than anyone else, so please choose a distance that you feel comfortable with.
Are there any existing events I can join in order to take part?
Action Medical Research has places in lots of exciting events of varying distances across the UK which you could take part in to help reach your chosen distance. Please visit our website to find an event which suits you.
Anyone under the age of 16 is permitted to take part with a parent or guardian but the fundraising page must be set up by the parent/guardian, this is in line with guidance from the Fundraising Regulator. Please get in touch with the Events team via email or phone 01403 327 444 if you have any questions.
How do I share on social media?
We'd love you to show us how your challenge is going, use #BigStepsTinyLives in your social posts, or tag @actionevents or @actionmedres.
I'm in a wheelchair, can I take part?
Yes, you can use a GPS device to track how far you've gone, or alternatively get hold of an odometer to fix to the wheelchair if you want to measure distance as you go.
What happens after I sign up?
When you successfully register, you'll receive an initial email to welcome you to the event and help you set up your fundraising page.
If you sign up before 1st October, there will be countdown emails to get you ready for the event, with a fundraising pack to save and download. After this there will be regular emails roughly weekly with ideas to help you manage your miles and hit your fundraising target.
The challenge is to raise the minimum amount for your chosen distance, i.e. £20 for 20-miles, £40 for 40-miles, or £60 for 60 miles. We do encourage you to raise this money to help fund vital medical research. We'll be here every step of the way to support you with ideas to reach your target.
How can I collect sponsorship?
The best way is for you to share a link to your fundraising page as everything will be processed online and you won't need to do anything more. However, you can also pay in any offline fundraising to us after the event (see below).
How do I pay in my offline fundraising?
By card over the phone by calling 01403 324 444
Send a cheque payable to Action Medical Research, please also enclose a note with your name and send to: Action Medical Research: Big Steps for Tiny Lives, Vincent House, Horsham, West Sussex, RH12 2DP
The donations you receive for taking part in Big Steps for Tiny Lives allow us to fund urgently needed medical research to tackle some of the toughest fights facing babies and children. Thank you.
You can find out more about what we do and how we do it by visiting our website.
What is JustGiving and how do I use it?
JustGiving is an online fundraising platform that you can use to collect donations for your challenge. Your fundraising page will be set up when you sign up and you can share the link with friends and family to make giving really easy. You'll receive details on how to log in to your JustGiving page in your confirmation email after signing up
I need help with my JustGiving fundraising page, how do I contact them?
For any technical help with your JustGiving page, the team are there to help, try looking at their help page online. There's lots of ideas and tips here too.
Or you can use their live support function from within your account, available Monday-Saturday 9am-6pm or email them: help@justgiving.com.
What if I don't want to use a fitness tracker?
No problem! Keep a record of your distance any way you choose and then add your miles manually to your fundraising page
How can I track the miles I've completed?
You can link a Strava account to your fundraising page.
How do I link my distance tracker to my fundraising page?
Using a fitness app is the easiest way to track your distance. JustGiving are partnered with Strava so you can use this app to record your distance and link it to your fundraising page. On the day you start the challenge, your page will automatically update the distance you run/walk and let your friends and family know how you're getting on. Fundraisers who use this feature can raise significantly more during their fundraising challenge.
What if I forget to track some of my distance?
If you forget to use an app to track your miles, simply manually update your fundraising page. Remember to only manually log distances that your app didn't track!
Can I create a team on JustGiving?
Yes! Ask your friends and family to join your team if you like to gain more support with your fundraising. You can do this on your JustGiving page by clicking 'Create a team' on your fundraising page and inviting people to join by clicking the Invite Members button. Or you can search to join a team that's already been created using the Join an existing team button
Can I change my challenge?
Once you have signed up, you are unable to change. However, your distance and fundraising count will continue throughout the challenge regardless of your target.
The Action Events team are here to help, please feel free to get in touch with us at any time by email or by calling 01403 327444